BOOK RELEASE PARTY ON 30 SEP 2017 AT BALLHAUS RIXDORF BERLIN
"TANGERINE DREAM – FORCE MAJEURE" – written by Edgar Froese
Finally – here it is: The first and unique AUTOBIOGRAPHY of the German
cult electronic band TANGERINE DREAM written by Edgar Froese.
More than 600 pages – authentic, frank and free-spirited –
the extraordinary adventures of a band and his head and founder,
Edgar Froese, who made history with their electronic innovations in
a crystallized musical landscape of the 70ies.
Bianca Froese-Acquaye and Paul Bonin (translator of the book and musician himself)
will read some exciting passages from the book (in German & English) in the relaxed atmosphere
of the Marble Bar at Ballhaus Rixdorf. You are warmly invited to join us!
Date: Saturday, 30 Sep 2017
Start: 7:30 pm
Address: Kottbusser Damm 76, 10967 Berlin
PARTICIPATION REGISTRATION ABSOLUTELY REQUIRED (limited space) under:
eastgate-book-party(at)gmx.com
BOOK ORDER AT THE EASTGATE SHOP: FORCE MAJEURE – AUTOBIOGRAPHY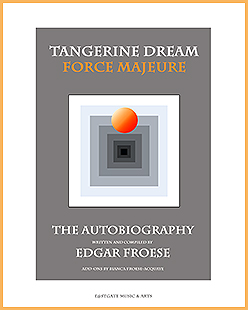 ______________________________________________________________________________________
BUCH_-RELEASE-PARTY AM 30. SEPT. 2017 IM BALLHAUS RIXDORF BERLIN
"TANGERINE DREAM – FORCE MAJEURE" – geschrieben von Edgar Froese
Endlich – hier ist sie: Die erste und einzige
AUTOBIOGRAFIE von der Kult-Elektronikband
TANGERINE DREAM – geschrieben von
Edgar Froese
Über 600 Seiten – authentisch, aufrichtig und offenherzig –
die aussergewöhnlichen Abenteuer einer Band und deren Kopf und Gründer
EDGAR FROESE, die zusammen mit ihren elektronischen Innovationen in einer
kristallisierten Musiklandschaft der 70er Jahre Geschichte geschrieben haben.
Bianca Froese-Acquaye und Paul Bonin (Übersetzer des Buches und selbst Musiker)
werden in der entspannten Atmosphäre der Marmor-Bar des Ballhaus Rixdorf in Berlin
einige spannende Passagen aus dem Buch lesen (in deutscher und englischer Sprache). Sie sind herzlich eingeladen!
Datum: Samstag, 30. Sept. 2017
Beginn: 19:30 Uhr
Adresse: Kottbusser Damm 76, 10967 Berlin
TEILNAHME-REGISTRIERUNG UNBEDINGT ERFORDERLICH (limitierter Platz) unter:
eastgate-book-party(at)gmx.com
BUCHBESTELLUNG IM EASTGATE SHOP: FORCE MAJEURE – AUTOBIOGRAFIE