EVENTS
20. Nov. 2017 / 19 h EINLASS, 20 h BEGINN

LESUNG / READING IN DER ECHO BUCHHANDLUNG BERLIN
Endlich – hier ist sie: Die erste und einzige Autobiografie von der Kult-Elektronikband Tangerine Dream – geschrieben von Edgar Froese.
Bianca Froese-Acquaye, Ehefrau des am 15. Januar 2015 verstorbenen Elektronikpioniers Edgar Froese,
Künstlerin (Malerei) und Tangerine Dream-Management, liest einige spannende und aufschlussreiche Passagen aus der am 29. Sept. 2017 erschienenen Autobiografie ihres Mannes FORCE MAJEURE.
https://www.buchhandel.de/buch/TANGERINE-DREAM-FORCE-MAJEURE-9783000565243
Wo: ECHO Buchhandlung, Grüntaler Str. 9,
13357 Berlin-Wedding
Weitere Infos unter: https://www.facebook.com/events/1648344131890264/
www.tangerinedream-music.com
_____________________________________________
BOOK RELEASE PARTY ON 30 SEP 2017 AT BALLHAUS RIXDORF BERLIN
"TANGERINE DREAM – FORCE MAJEURE" – written by Edgar Froese
Finally – here it is: The first and unique AUTOBIOGRAPHY of the German
cult electronic band TANGERINE DREAM written by Edgar Froese.
More than 600 pages – authentic, frank and free-spirited –
the extraordinary adventures of a band and his head and founder,
Edgar Froese, who made history with their electronic innovations in
a crystallized musical landscape of the 70ies.
Bianca Froese-Acquaye and Paul Bonin (translator of the book and musician himself)
will read some exciting passages from the book (in German & English) in the relaxed atmosphere
of the Marble Bar at Ballhaus Rixdorf. You are warmly invited to join us!
Date: Saturday, 30 Sep 2017
Start: 7:30 pm
Address: Kottbusser Damm 76, 10967 Berlin
PARTICIPATION REGISTRATION ABSOLUTELY REQUIRED (limited space) under:
eastgate-book-party(at)gmx.com
BOOK ORDER AT THE EASTGATE SHOP: FORCE MAJEURE – AUTOBIOGRAPHY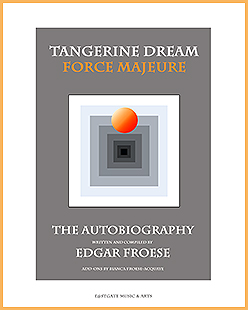 _____________________________________________________________
BOOK RELEASE PARTY AM 30. SEPT. 2017 IM BALLHAUS RIXDORF BERLIN
"TANGERINE DREAM – FORCE MAJEURE" – geschrieben von Edgar Froese
Endlich – hier ist sie: Die erste und einzige
AUTOBIOGRAFIE von der Kult-Elektronikband
TANGERINE DREAM – geschrieben von
Edgar Froese  
Über 600 Seiten – authentisch, aufrichtig und offenherzig –
die aussergewöhnlichen Abenteuer einer Band und deren Kopf und Gründer
EDGAR FROESE, die zusammen mit ihren elektronischen Innovationen in einer
kristallisierten Musiklandschaft der 70er Jahre Geschichte geschrieben haben.
Bianca Froese-Acquaye und Paul Bonin (Übersetzer des Buches und selbst Musiker)
werden in der entspannten Atmosphäre der Marmor-Bar des Ballhaus Rixdorf in Berlin
einige spannende Passagen aus dem Buch lesen (in deutscher und englischer Sprache). Sie sind herzlich eingeladen!
Datum: Samstag, 30. Sept. 2017
Beginn: 19:30 Uhr
Adresse: Kottbusser Damm 76, 10967 Berlin
TEILNAHME-REGISTRIERUNG UNBEDINGT ERFORDERLICH (limitierter Platz) unter:
eastgate-book-party(at)gmx.com
BUCHBESTELLUNG IM EASTGATE SHOP: FORCE MAJEURE – AUTOBIOGRAFIE
_________________________________________________________
"REVOLUTION OF SOUND.TANGERINE DREAM" – Documentary in German cinemas now!
Start: 4th Sep 2017



Please click on PROJECTS to get more information!
___________________________________
"REVOLUTION OF SOUND.TANGERINE DREAM" – Dokumentarfilm jetzt in deutschen Kinos!
Start: 4. Sep 2017



Bitte auf PROJECTS klicken, um weitere Informationen zu erhalten!
___________________________________
IN MEMORY OF EDGAR FROESE – EVENT IN BERLIN ON 21 JANUARY 2017
SATURDAY, 21 JANUARY 2017; BERLINER FESTSPIELHAUS, Schaperstr. 24, 10719 Berlin; 5:30pm to 11:00 pm
Bianca Froese-Acquaye will once again organise an event for her husband Edgar Froese in memory of the second anniversary of his death to be held in January 2017.
This event will take place in Berlin, once again at the BERLINER FESTSPIELHAUS (http://www.berlinerfestspiele.de/de/aktuell/festivals/specials/specials_programm/specials_veranstaltungsdetail_196437.php) and will be a mixture of exhibition, reading (a part from Edgar Froese's autobiography), tombola with cool prizes and as a highlight: a TANGERINE DREAM concert!
The access to this event is limited to 200 people, so all people who would like to come are warmly invited and can register now.
Just send a simple mail to: memory-eastgate@gmx.com
___________________________________________________________________________________
BIANCA FROESE-ACQUAYE will be curating EDGAR FROESE's ZOOM-O-GRAPHIC exhibition @ STARMUS FESTIVAL Tenerife/Canary Islands, the astrophysicists and astronauts' conference : www.starmus.com
This year STEPHEN HAWKING will be honoured and BRIAN MAY as well as HANS ZIMMER and many more will be performing.
LAST ART EVENTS:
30 January 2016: "THE ART OF HOW TO DREAM" – VERNISSAGE IN HONOUR OF EDGAR FROESE & BIANCA FROESE-ACQUAYE's DANTE PAINTINGS AT THE HAUS DER BERLINER FESTSPIELE, BERLIN, see more details > here