NEWS
20. Nov. 2017 / 19 h EINLASS, 20 h BEGINN

LESUNG / READING IN DER ECHO BUCHHANDLUNG BERLIN
Endlich – hier ist sie: Die erste und einzige Autobiografie von der Kult-Elektronikband Tangerine Dream – geschrieben von Edgar Froese.
Bianca Froese-Acquaye, Ehefrau des am 15. Januar 2015 verstorbenen Elektronikpioniers Edgar Froese,
Künstlerin (Malerei) und Tangerine Dream-Management, liest einige spannende und aufschlussreiche Passagen aus der am 29. Sept. 2017 erschienenen Autobiografie ihres Mannes FORCE MAJEURE.
https://www.buchhandel.de/buch/TANGERINE-DREAM-FORCE-MAJEURE-9783000565243
Wo: ECHO Buchhandlung, Grüntaler Str. 9,
13357 Berlin-Wedding
Weitere Infos unter: https://www.facebook.com/events/1648344131890264/
www.tangerinedream-music.com
_____________________________________________
BOOK RELEASE PARTY ON 30 SEP 2017 AT BALLHAUS RIXDORF BERLIN
"TANGERINE DREAM – FORCE MAJEURE" – written by Edgar Froese
Finally – here it is: The first and unique AUTOBIOGRAPHY of the German
cult electronic band TANGERINE DREAM written by Edgar Froese.
More than 600 A 4 pages (real book pages quantity will follow) – authentic, frank and free-spirited –
the extraordinary adventures of a band and his head and founder,
Edgar Froese, who made history with their electronic innovations in
a crystallized musical landscape of the 70ies.
Bianca Froese-Acquaye and Paul Bonin (translator of the book and musician himself)
will read some exciting passages from the book (in German & English) in the relaxed atmosphere
of the Marble Bar at Ballhaus Rixdorf. You are warmly invited to join us!
Date: Saturday, 30 Sep 2017
Start: 7:30 pm
Address: Kottbusser Damm 76, 10967 Berlin
PARTICIPATION REGISTRATION ABSOLUTELY REQUIRED (limited space) under:
eastgate-book-party(at)gmx.com
BOOK ORDER AT THE EASTGATE SHOP: FORCE MAJEURE – AUTOBIOGRAPHY
Edgar Froese, composer, musician, artist and notable
pioneer in the area of electronic music, looks back over
many years of musical history and the band that had a
major influence on his life: TANGERINE DREAM.
The will to unconditionally revolutionise sound itself
correlated inescapably with the awakening of the new,
leaving the stench of the 1950's behind and creating a c
ompletely new consciousness for the post-war generation.
Told totally in the style of the spiritof the sixties, the reader
becomes magically immersed in an unsettling but fascinating
universe, marked, among other things, by encounters and
collaborations with the greats from the worlds of art, film
and music – names like Salvador Dalí, Jimi Hendrix, Andy
Warhol, David Bowie, Michael Mann, Oliver Stone, Ridley
Scott, Jim Rakete – to name but a few. Concert tours as the
first band from the West ever to journey through the former
GDR and Poland during the dark days of the Iron Curtain
are spiked with countless entertaining anecdotes. In the
1980's, young and ambitious Hollywood directors found
Tangerine Dream to be the perfect scoring partners for
their new movies.
Edgar Froese's autobiography 'Force Majeure' is an
authentic compendium of contemporary history; the book
contains many unpublished photographs, as well as the
thoughts and ideas of fellow musicians, friends and fans,
all rounding off this unique and new literary composition.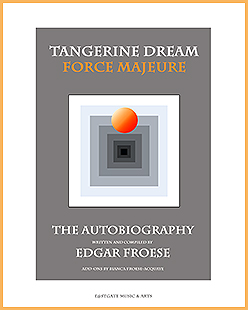 _____________________________________________________________
BOOK RELEASE PARTY AM 30. SEPT. 2017 IM BALLHAUS RIXDORF BERLIN
"TANGERINE DREAM – FORCE MAJEURE" – geschrieben von Edgar Froese
Endlich – hier ist sie: Die erste und einzige
AUTOBIOGRAFIE von der Kult-Elektronikband
TANGERINE DREAM – geschrieben von
Edgar Froese  
Über 600 A4 Seiten (tatsächliche Buchseitenanzahl folgt)- authentisch, aufrichtig und offenherzig –
die aussergewöhnlichen Abenteuer einer Band und deren Kopf und Gründer
EDGAR FROESE, die zusammen mit ihren elektronischen Innovationen in einer
kristallisierten Musiklandschaft der 70er Jahre Geschichte geschrieben haben.
Bianca Froese-Acquaye und Paul Bonin (Übersetzer des Buches und selbst Musiker)
werden in der entspannten Atmosphäre der Marmor-Bar des Ballhaus Rixdorf in Berlin
einige spannende Passagen aus dem Buch lesen (in deutscher und englischer Sprache). Sie sind herzlich eingeladen!
Datum: Samstag, 30. Sept. 2017
Beginn: 19:30 Uhr
Adresse: Kottbusser Damm 76, 10967 Berlin
TEILNAHME-REGISTRIERUNG UNBEDINGT ERFORDERLICH (limitierter Platz) unter:
eastgate-book-party(at)gmx.com
BUCHBESTELLUNG IM EASTGATE SHOP: FORCE MAJEURE – AUTOBIOGRAFIE
Edgar Froese, Komponist, Musiker, Künstler, bedeutender Pionier auf dem Gebiet der elektronischen Musik, blickt in diesem Buch auf viele Jahre Musikgeschichte seiner Band TANGERINE DREAM zurück, die sein Leben wesentlich beeinflusst haben. Der Wille zur unbedingten Revolutionierung des Klanges korrelierte zwangsläufig mit dem Erwachen eines neuen, den Mief der 50er Jahre hinter sich lassenden, Bewusstseins der Nachkriegsgeneration.
Ganz im Stil des Zeitgeistes der 68er Jahre erzählt, wird der Leser beinahe magisch in einen faszinierend-verstörenden Kosmos hineingzogen, der unter anderem von Begegnungen und Kooperationen mit Grössen aus Kunst, Film und Musik – wie Salvador Dalí, Jimi Hendrix, Andy Warhol, David Bowie, Michael Mann, Oliver Stone, Ridley Scott, Jim Rakete -, um nur einige zu nennen, geprägt ist.
Konzerttourneen durch die ehemalige DDR und Polen zu Zeiten des Eisernen Vorhangs, als erste West-Band überhaupt, sind mit zahlreichen amüsanten Anekdoten gespickt. Junge aufstrebende Hollywood-Regisseure hatten besonders in den 80er Jahren in Tangerine Dream klanglich ihren Scoring-Partner gefunden.
Edgar Froeses Autobiografie Force Majeure ist ein authentisches Kompendium der Zeitgeschichte;
zahlreiche, zum Teil noch unveröffentlichte Fotografien sowie Gedanken von Musikerkollegen, Freunden und Fans runden diese literarisch einzigartige Neukomposition ab.
_________________________________________________________
"REVOLUTION OF SOUND.TANGERINE DREAM" – Documentary in German cinemas now!
Start: 4th Sep 2017



Please click on PROJECTS to get more information!
___________________________________
"REVOLUTION OF SOUND.TANGERINE DREAM" – Dokumentarfilm jetzt in deutschen Kinos!
Start: 4. Sep 2017



Bitte auf PROJECTS klicken, um weitere Informationen zu erhalten!
___________________________________
IN MEMORY OF EDGAR FROESE – EVENT IN BERLIN ON 21 JANUARY 2017
SATURDAY, 21 JANUARY 2017; BERLINER FESTSPIELHAUS, Schaperstr. 24, 10719 Berlin; 5:30pm to 11:00 pm
Bianca Froese-Acquaye will once again organise an event for her husband Edgar Froese in memory of the second anniversary of his death to be held in January 2017.
This event will take place in Berlin, once again at the BERLINER FESTSPIELHAUS (CLICK HERE…) and will be a mixture of exhibition, reading (a part from Edgar Froese's autobiography), tombola with cool prizes and as a highlight: a TANGERINE DREAM concert!
The access to this event is limited to 200 people, so all people who would like to come are warmly invited and can register now.
Just send a simple mail to: memory-eastgate@gmx.com
_____________________________________________________________________________________
"THE ART OF HOW TO DREAM" – ZOOM-O-GRAPHICS by EDGAR FROESE
(Tangerine Dream) – Exhibition @ STARMUS FESTIVAL 2016 – Tenerife/Canary Islands
27 JUNE – 02 JULY 2016
ENGLISH:
Edgar Froese, the founder of TANGERINE DREAM, has left after his sudden death in 2015, not only an extensive musical legacy representing a close symbiosis of music and art, but with his so-called ZOOM-O-Graphics also own works of art. In addition to studying graphic arts, painting and sculpting, which he completed before the beginning of his musical career, he remained very connected to the visual arts throughout his life. His encounter with Salvador Dalí in 1967 was particularly influential to him as well as the surreal imagery, which Edgar Froese drew his inspiration from with regard to the naming of the band Tangerine Dream and the development of his own artistic language. On the one hand Froese uses in his ZOOM-O-Graphics quotes from works of famous painters, such as Michelangelo Merisi Caravaggio, which he digitally combines to new collages via computer like in the work WHEEL OF FORTUNE – showing at the same time Froese's analysis of the tradition of art history. On the other hand, he develops in works like THE VERY LAST SECOND OF JOHN THE BAPTIST or MIDAS TOUCH, his own artistic expression of classical themes of art history from ancient Greek and Christian iconography. Edgar Froese's music and his art have a common language. The music of Tangerine Dream prompts a kind of spontaneous "mental cinema" to the listener, impressive images challenging emergence and immersion into other worlds. His collages reflect surreal worlds in perfect composition. Edgar Froese leaves an impressive work of art with his painting for the ears and his music for the eyes to posterity.
The exhibition will be curated by Edgar Froese's wife Bianca Froese-Acquaye.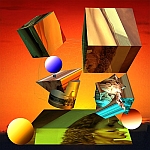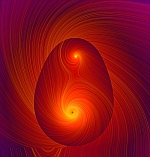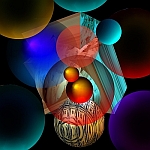 GERMAN:
Edgar Froese, der Gründer von TANGERINE DREAM, hat nach seinem plötzlichen Tod im Jahre 2015, nicht nur ein umfangreiches Musikvermächtnis hinterlassen, das eine enge Symbiose aus Musik und Kunst darstellt, sondern mit seinen sogenannten ZOOM-O-Graphics auch eigene Kunstwerke. Neben dem Studium der Graphik, Malerei und Bildhauerei, das er vor dem Beginn seiner musikalischen Karriere absolvierte, blieb er der Bildenden Kunst zeitlebens sehr verbunden. Besonders prägend war die Begegnung mit Salvador Dali und dessen surrealen Bilderwelten im Jahre 1967, die Edgar Froese zur Namensgebung der Band TANGERINE DREAM, "Orangefarbener Traum", und zur Entwicklung einer eigenen künstlerischen Sprache inspirierte. In seinen ZOOM-O-Graphics werden zum einen Zitate von Werken berühmter Maler, wie u.a. Michelangelo Merisi Caravaggio, zu neuen Collagen digital am Computer zusammengefügt, wie in dem Werk WHEEL OF FORTUNE, die Froeses Auseinandersetzung mit der Tradition der Kunstgeschichte zeigen. Zum anderen entwickelt er in seinen Werken, wie THE VERY LAST SECOND OF JOHN THE BAPTIST oder MIDAS TOUCH seinen eigenen künstlerischen Ausdruck für die klassischen Themen der Kunstgeschichte aus der griechischen Antike und der christlichen Ikonographie. Edgar Froeses Musik und seine Kunstwerke haben eine gemeinsame Sprache. Die Musik von TANGERINE DREAM erzeugt beim Hörer spontanes "Kopfkino", imposante Bilder, die zum Aufbruch und Eintauchen in andere Welten auffordern, und seine Collagen spiegeln surreale Welten in vollendeter Komposition wieder. Edgar Froese hinterläßt der Nachwelt mit seiner Malerei für die Ohren und Musik für die Augen ein eindrucksvolles Gesamtkunstwerk.
Die Ausstellung wird von Edgar Froeses Frau Bianca Froese-Acquaye kuratiert.